Mitchell's Memoir:
Overwhelmed
The True Story of a Military Family in Crisis and Their Thirty Year Journey Discovering God's Purpose for Their Lives
Mitchell's story begins where all of our stories begin—in the womb. However, his life was altered forever when his mother drank a supposedly innocuous glass of water during the first trimester of her pregnancy. They were living on Wurtsmith Air Force Base (AFB), Michigan, where his father was a Captain in the United States Air Force and B-52G Aircraft Commander. ​​​​​​​​​​​​​​​​​​​​This book recounts their journey from their individual points of view, shaped by their own biases and choices, while serving Mitchell for three decades as a profoundly handicapped person requiring around-the-clock care.
You will be challenged by this godly family as they share their hearts with you:
"We understand now that our family was prepared in advance to serve Mitchell's ministry in order to display the heart of God through his people."
Every family has a Mitchell. You may not have a profoundly handicapped child, but you may feel OVERWHELMED with the circumstances of your life. Let this family lead you through their experiences of Mitchell's ministry and God's challenge to us all.
Senior Professor Emeritus, Professional Writing and Information Design, Cedarville University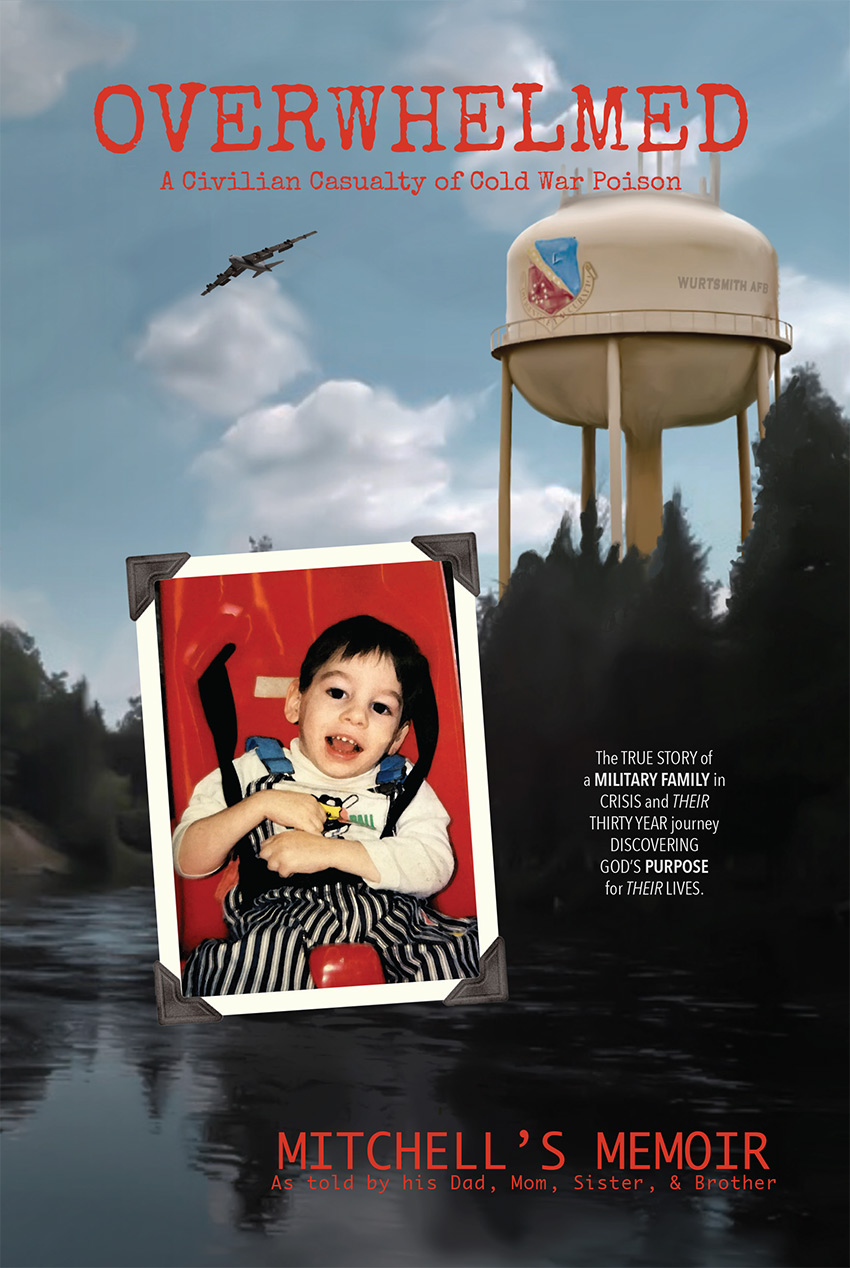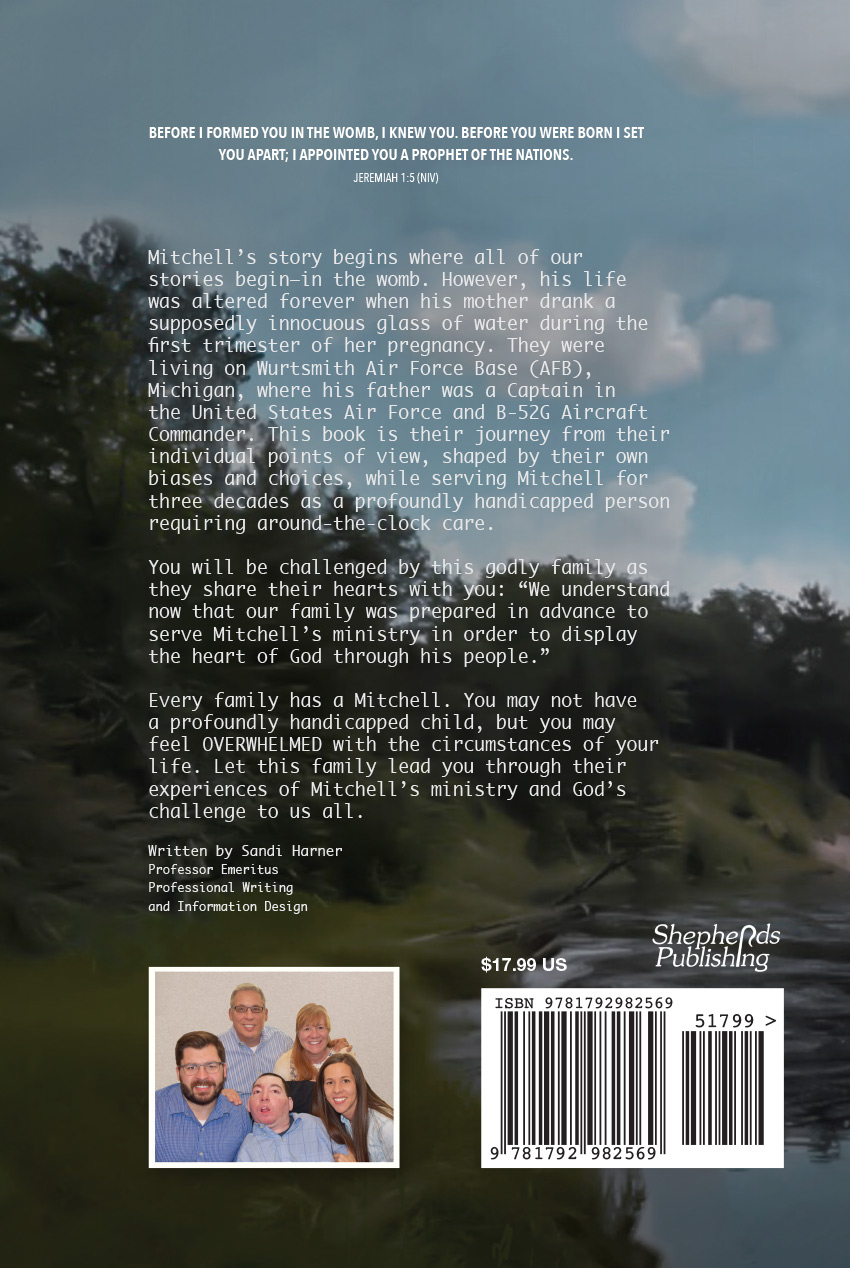 What Readers are Saying About the Book
"This is a beautifully written book chronicling the journey of raising a child with severe disabilities. There is a transparency in the writing that allows you as the reader to feel all the emotions as though you are living it with the family. The insights into the challenges and joys of life with a family member with medical and physical handicaps are invaluable. Not to mention the clear examples of God's love for us and His ability to use all of us for His glory. I consider this book a must read for any Christ follower, especially those in ministry or health care."
"This book is for anyone who has ever wrestled with a seemingly impossible situation with overwhelming obstacles. The Minors present an honest approach to both the joyous and painful parts of living a life of faith when pressure mounts. You will cry, laugh and fall in love with a boy who defied all odds and lives as a testimony to the overwhelming grace of the God who makes all life beautiful."
"I loved this book! "Overwhelmed: Mitchell's Memoir" is not only a must-read for parents and caregivers of special needs children, it is a must-read for those of us who find ourselves in situations where we are "overwhelmed" by life's circumstances. The story of Mitchell and his family is raw and gut-wrenching. Yet it is filled with grace and hope. And it demonstrates the importance of family, of faith, and of love!"
"A work of art for the heart and soul. I loved this book. It is an easy read that will renew and refresh your faith in God. Mitchell's Ministry continues on stronger than ever through this families stories of hardship, sacrifice, love and faith. Thank you for also highlighting the impacts of unregulated chemicals in the drinking water of unsuspecting military families and surrounding communities at the hands the Department of Defense. #nodefense"
"I read Mitchell's Memoir recently and cried my way through it. The tears were not only from the loss of such a beautiful soul, but they were tears due to the overwhelming love that his entire family had for Mitchell. Their faith in God to work His plan in their lives was an inspiration for all to see. Their lives are wonderful testimonies. They left no question where their faith lies: in Christ alone. They portrayed Mitchell as an equal member of their family and lived their lives to include him in every way possible. I enjoyed reading each individual perspective on Mitchell from his family members. They shared in depth thoughts on their roles in Mitchell's life and his impact on their lives. They portrayed Mitchell as the unique human being that he was. Even in death, he left his personal mark on those left behind. God gifted his family with him and blessed Mitchell with a truly beautiful family."
Read Overwhelmed Today
This Book Will Change You
Available in paperback, audiobook and ebook formats!